The innovative carriage system
LIFTLINER LL40-1
With the remote controlled carriage Liftliner, it is possible to work with the functions "lifting/lowering" at the same time.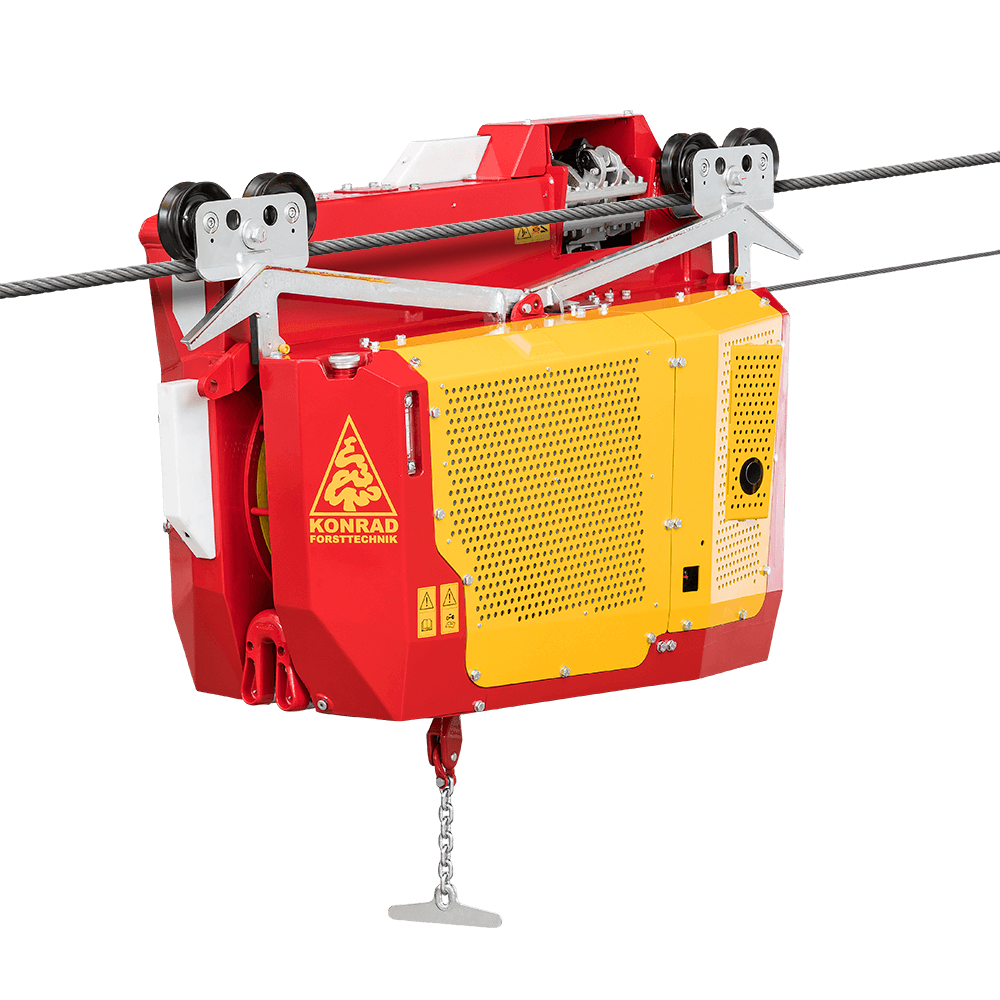 Standard wire rope Ø
11/100
mm/m
Liftliner LL40-1
With the remote controlled carriage Liftliner, it is possible to work with the functions "lifting/lowering" at the same time.
In that case, a particularly gentle and efficient work in thinning is possible, as well as a pinpoint placement of the logs at the unloading. Due to the separate hoist winch, the mainline cable and the haul back cable is attached to the carriage, and therefore has only the task of pulling the carriage.
The cable clamp on the skyline is switched only when the cable breaking device is activated, or by manual actuation. Therefore the carriage Liftliner LL40-1 works practically without wear on the main-and skyline.
Uphill- and downhill operation
Quick installation
Separate on board Hoisting winch
Allows driving and lifting/lowering at the same time
Minimized wear on skyline and main line
Double pulley for safe passing over supports
Userfriendly operation with KONRAD remote control
Receiver with integrated transformer for wider working range
Radio system
Remote control with display
Extremely light with high battery capacity
All the settings are possible on the remote control
Error diagnosis display of operating data of the diesel engine and hydraulic system on the display
Display of radio frequency and signal strength
Universal for all Konrad machines with KFS 16
LIFTLINER LL40-1
Technical data
General information
| | |
| --- | --- |
| Weight | 1020 kg ¹) |
| Sky line diameter | Ø18 - 22 mm |
| Operating voltage | 12 V |
| Remote control system | KFS-16, KFS-20 |
Diesel engine
| | |
| --- | --- |
| Type designation | VW TDI 2,0 - 455 MD, 4-cylinder-diesel engine with turbo and intercooler |
| Power | 55 kW (at 2700 U/min) |
| Torque | 240 Nm (at 1750 U/min) |
| Displacement | 2,0 l |
| Diesel tank capacity | 25 l |
Winch
Drive motor
Radial piston motor
Winch pulling force
27 kN (outermost layer)
45 kN (innermost layer)
Standard wire rope:
Ø 11 mm / 100 m
Hydraulic system
| | |
| --- | --- |
| Hydraulik oil pump | Axial piston pump, closed oil circuit |
| Max. operating pressure | 400 bar |
| Hydraulic oil specification | HVLP 46 |
| Hydraulic system filling capacity | 22 l |
1) Weight with resources; diesel tank empty


Optional equipment: In addition to the standard equipment, a broad range of optional equipment is also available. Further information on standard and optional equipment can be obtained from your KONRAD distributor.
The manufacturer reserves the right to make technical modifications and improvements.